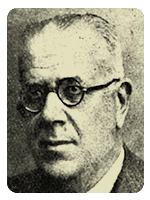 Born in Navarra, he stood out studying high school at the Pamplona institute, receiving the Natural History Prize and honorable mention in Physics and Chemistry. He studied Medicine at the University of Barcelona and later developed his work in the field of pediatrics. Apart from exercising his profession as a pediatrician, he excelled in the study of Natural Sciences, standing out in the field of entomology and carcinology.
Starting in 1917, with the help of his son and also a pediatrician, Ricardo Zariquiey Álvarez, he began collecting and studying the hypogeal beetles, participating in innumerable publications and in the description of new taxa. Later, in 1930, he began collecting and studying decapod crustaceans, research that his son would continue after his death. As father and son worked contemporaneously, today there is confusion about the authorship of their works.
In 1955, Dr. Francesc Español dedicated a new species of cave beetle, Speophilus cenarroi, to him. Later his son in his posthumous work, "Crustáceos Decápodos Ibéricos", also dedicated the species of decapod crustacean, Galathea cenarroi, to him. A lover of the natural sciences, Ricardo Zariquiey Cenarro collaborated with the most important scientists of his time, and his studies, and later those of his son, helped complete the knowledge of various taxonomic groups.
Written by
This biographical note was prepared thanks to the information extracted from the Gallery of Catalan Doctors, the biographical note of the Catalan Association of Biospeleology written by Lluís Auroux, the obituary written by Dr. Francesc Español for the magazine of Spanish Entomologists, as well as information collected in the poster "Zariquiey: A tribute to two great scientists ad their legacies", which was presented at The Crustacean Mid-Year Meeting, held in Barcelona in 2017.
Image gallery