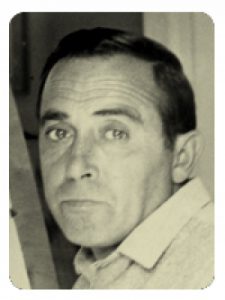 Recruited by the Republicans and detained by the insurgent army, in 1939 he was confined to Zamora until 1942, when he was able to return to Barcelona. A year later he joined the Botanical Institute of Barcelona as an assistant in the collections.
For financial reasons, in 1950 he moved to Chile where he graduated in humanities as part of the Biology Plan from the University of Chile. He was a professor of Botany at the School of Agronomy of this university, and later on at the Pontifical Catholic University of Chile. During his stay in Latin America, he worked on illustrations for several botanists, some as renowned as Gualterio Looser, Carlos Muñoz Pizarro, or Jochen Kummerow. With the latter he also published his own articles in the International Biological Project with San Diego State University.
In 1972 he returned to Barcelona to join the Botanical Institute of Barcelona, where he was in charge of the Botanical Garden. In addition to his work at the Institute, he worked again on several publications with scientists such as M. Àngels Cardona and Àngel Romo. During the last stage of his life he illustrated outstanding works such as La vegetació dels Països Catalans (The Vegetation of the Catalan Countries, Folch, 1981) or the monumental Flora Ibérica (Iberian Flora, Castroviejo Ed., 1986- ) of which he was the sole illustrator for the first seven volumes with a total of 870 published prints. He worked tirelessly throughout his life, as evidenced by over four thousand known prints, most of which have an average of four drawings per print. Almost all have been published in the 59 articles and 55 books of his extensive work that have been located.
Main works in which he collaborated
Diccionario de Botánica (Dictionary of Botany, Pius Font i Quer, 1953)

Plantas medicinales (Medicinal Plants, Pius Font i Quer, 1938)
Sinopsis de la flora chilena (Synopsis of Chilean Flora, Carlos Muñoz Pizarro, 1959)
La vegetació dels Països Catalans (The Vegetation of the Catalan Countries, Ramon Folch, 1981)

Flora iberica (Iberian Flora, Santiago Castroviejo, ed., 1986- )
For more information
Puche, C; Puche, C. (2009). Descobrir Eugeni Sierra. Les passes d'un il·lustrador internacional. Barcelona: Institut Botànic de Barcelona i Museu de Ciències Naturals.
Image gallery
Galería de vídeos
Botànica íntima
Botànica íntima, audiovisual of the exhibition Descobrir Eugeni Sierra: les passes d'un il·lustrador internacional. Language: CAT Subtitles: ESP, ENG