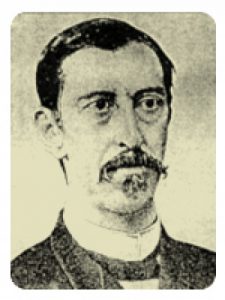 After finishing his studies in 1865 he travelled to the Philippines to work as a forest inspector. In 1871 and 1876 he created the Commission of Flora and Forestry Statistics, of which he was named the head whilst also working as the director of the Botanic Gardens of Manila (1878-1889). He was an eminent botanist and wrote various pieces of work about the flora of the Philippineswhich contrasted with collections around the rest of the world. He also published works about the different types of woods found in the country and their uses. In recognition of his work, through popular support, a monument in his memory was erected in the Botanic Gardens of Manila, created by the sculptor Enric Clarasó i Daudí.
His time at the Tharandt School in Germany, where he finished his engineering studies, inspired within him a love for botany which continued throughout his whole life.
Whilst in the Philippines, Vidal i Soler created a plant collection containing 8,000 species and created 69 new public descriptions, which was partly destroyed in a fire in 1897.
He represented his country at conferences and expositions, namely at the Philadelphia Universal Exposition in 1876 and in the Exposition of Philippine Products in Madrid in 1887, at which he was awarded the Grand Cross of the Order of Queen Isabella. He also received a medal of the 3rd class of the Royal Crown of Prussia (1875) and the title of Knight of the Royal Order of the Lion of the Netherlands.
His passion for exploring and discovering new species under the conditions of the difficult subtropical climate of the Philippinesmost likely had something to do with his premature death from cholera at only 47 years old, in Manila.
Vidal i Soler had a brother, Domènec, also born in Barcelona in 1839 and who also died in Manila in 1878, also a victim of cholera. He finished his forest engineering studies in 1867. Throughout his professional life, he expressed liberal andanti-monarchist political ideas, for which he was exiled and finally rehabilitated, but settled in the Philippines (1873). He published the wood manual in the Philippines (1877). He collaborated with his brother Sebastià and with other scientists in work on the Philippine flora.
Main works
Memoria sobre el ramo de montes en las Islas Filipinas. Madrid, 1874: Aribau and C.a. Reimpr. Biblio Bazaar, 2010.
Estudio sobre el clima de Filipinas.1874. M. Minuesa.
Breve descripción de algunas de las maderas más importantes y mejor conocidas de las islas Filipīnas.1874. M. Minuesa.
Catálogo metódico de las plantas leñosas silvestres y cultivadas observadas en la provincia de Manila. Madrid, 1880. Aribau and C.a Reimpri. Kessinger Publ. 2010
Reseña de la flora del archipiélago filipino.Manila, 1883.
Sinopsis de familias y géneros de plantas leñosas de Filipinas: introducción a la flora forestal del archipiélago filipino. Manila, 1883: Chofré and C.a.
With Josep Jordana. Apuntes sobre montes y agricultura norteamericana, Madrid, 1884.
With Hugh Cuming. Phanerogamae Cumingianae Philippinarum: ó, Índice numérico y catálogo sistemático de las plantas fanerógamas coleccionadas en Filipinas. Manila, 1885: M. Pérez Hijo.
Revisión de plantas vasculares Filipinas. Manila, 1886: Lithography by M. Perze.
For more information
Image gallery