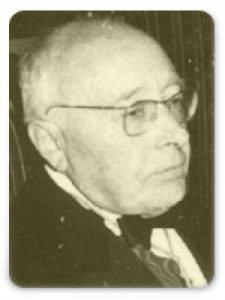 He was born in Mataró in 1895, son of Pere Pascual i Tayeda and Gertrudis Vila i Ribes. He died in Barcelona in 1979.
Pascual i Vila earned a degree in pharmacy (1916) and in chemistry (1917) (with an outstanding record of grades). He obtained a PhD degree in chemistry (Madrid, 1922) and in pharmacy (1926). After some teaching activity in Barcelona, in April 1922 he moved to Freiburg (Germany) to work with Professor Heinrich Otto Wieland, where they conducted research on bile acids (for this work he was awarded the Nobel Prize in 1927, "for his investigations of the constitution of the bile acids and related substances"). From Freiburg he made a stay in Graz with Professor Pregl (Nobel in 1923 "for his invention of the method of micro-analysis of organic substances") in order to learn micro-analysis techniques.
During his stay in Freiburg, by the end of 1922 he obtained the Chair of Organic Chemistry in Salamanca. In 1925 he moved to the Universidad de Sevilla and in 1933 he married to Montserrat de Sans i Coret.
In September 1934, he joined the recently created Universitat Autònoma de Barcelona. After October the 6th 1934, he was ratified as a Professor. After being purged at the end of the Civil war, he continued as a Professor until his retirement in 1965.
From 1966 to 1979 he chaired the Reial Academia de Ciències i Arts de Barcelona, where he conducted a commendable work. He was an active member of the Consell Superior d´Investigacions Científiques (CSIC), the current Centre d´Investigacions i Desenvolupament Superior (CID), where a building is named after him. Here it is located an institute of chemical and environmental research called Institut d´Investigacions Químiques i Ambientals "Josep Pascual Vila". A street in the South Diagonal Campus of the Universitat de Barcelona, parallel to the Faculty of physics and chemistry, is also dedicated to him.
Acknoledgements
Ramon Pascual de Sans, President of the The Royal Academy of Sciences and Arts of Barcelona.
Image gallery