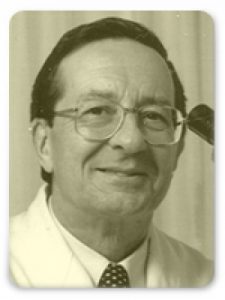 Professor of Cell Biology at the Autonomous University of Barcelona (UAB). He was a member of the Biological Sciences Section and the Catalonian Society of Biology of the Institute of Catalonian Studies (IEC).
He was the director of the Group of Cytogenetics at the Institute of Fundamental Biology Vicent Villar Palasí in the UAB, and he also directed the department of Genetics of the Regional Primate Research Centre in Oregon (U.S.) and the department of Cytogenetics of the Cytological Research Institute of Valencia.
Author of more than 475 research articles, he was recognized internationally as an authority in the field of Cell Biology. He focused his research in the cytogenetics and the chromosomal evolution of primates, as well as in human genetics and fertility.
He was president and member of honor of the European Society of Human Reproduction and Embryology, besides associate of honor of the Spanish Primatological Association. He received the Prize of the Catalonian Foundation for Research in 1996, the Medal Narcís Monturiol to the technological and scientific merit in 1989 and the Medal of Gold of the Institute Dexeus (1997).
He was responsible for the Thematic Network on Reproduction of the Generalitat of Catalonia, member of the Observatory of Bioethics of the University of Barcelona (UB) and advisor of the European Counsel, of the European Commission and of the Spanish Parliament in ethics of human assisted reproduction.
Regarding Science Communication, Josep Egozcue signed more than 42 scientific articles or book chapters about bioethics and several articles in newspapers and magazines. Among the publications that he coordinated we can find 'Document on investigation with embryos' (2000), 'Document on embryonic stem cells' (2001), 'Document of anticipated wills (Life Testament)' (2001) and 'Document on the freezing of oocytes for human assisted reproduction' (2002). As an editor, he published 'Predictive Medicine and Discrimination' (2002), 'Document on selection of sex' (2003) and 'Responses to Human Cloning' (1999), with the contribution of Françoise Shenfield.
Main works
Document sobre investigació amb embrions (2000)
Document sobre cèl·lules mare embrionàries (2001)
Document de voluntats anticipades (Testament Vital) (2001)
Document sobre congelació d'oòcits per a la reproducció assistida humana (2002)
Medicina Predictiva i Discriminació (2002)
Document sobre selecció de sexe (2003)
Responses to Human Cloning (1999)
For more information
Fontanals, M. P. (2007). Josep Egozcue. La vida d´un universitari apassionat per la recerca. Biografies de la Fundació Catalana per a la Recerca, 12. Fundació Catalana per a la Recerca i la Innovació, 2007.
Catalan PDF version
Image gallery