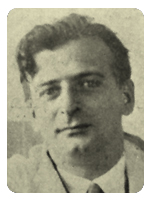 He graduated in Barcelona in 1925, and was a disciple of Ramón Turró and August Pi i Sunyer. He carried out research practices at the Institute of Physiology and at the Barcelona Municipal Laboratory, directed by Turró, and belonged to the Barcelona Biology Society (now the Catalan Society of Biology). He established personal and research relationships with Pere Domingo and Jaume Sunyer Pi, among others.
His first research was on anaphylaxis and pregnancy. Through a grant from the Board for the Extension of Studies he worked (1925) at the Pasteur Institute in Paris, where he published studies carried out with Wollman, Lapin and Besredka. In 1926 he asked the Board to go to New York, to the Rockefeller Institute, to the laboratory directed by James Murphy and Francis Peyton Rous, to deepen his research on viruses, an institute where he was hired, once the JAE scholarship ended. Interested in the processes of penetration and infection, in 1928 he discovered a diffusion factor, which he called "Factor T" (testicular), but it was known as "Factor Duran Reynals", soon identified as hyaluronidase. He was working on a viral theory of cancer, a disease on which he became an expert. In 1936, he left the Rockefeller Institute to direct a Cancer Research Institute in Barcelona, ​​which was to be called "Miquel Servet" and was privately financed. He had sent young researchers to the United States to be part of the center, Vicenç Moragues, Jordi Casals and Jordi Folch-Pi. The outbreak of the civil war prevented the establishment of the center and it was readmitted to the New York Institute. Soon after, he got a laboratory of his own at Yale University in New Haven.
In a series of experiments published in 1940, he showed that the Rous sarcoma agent was not specific to chickens and could infect ducks, which was a decisive step in showing that it was a virus. His works on the relationship between viruses and cancer multiplied and soon gave him universal fame, despite generating controversy. In 1957 he attended the Chicago Cancer Congress, where he defended his fundamental contribution on the viral etiology of cancer. The following year he died, struck by this disease. In 1971, on the occasion of the Fifth International Congress of Biochemistry, held in Barcelona, ​​Virus y Cáncer was published, which contains several studies and a compilation of his most important works. He was a corresponding member of the Institute for Catalan Studies (1947). Recently, a virus has been detected as the cause of papilloma cancer and this has made possible a vaccine that is supplied throughout the world. Other cancers, such as AIDS, are also associated with a virus.
Some publications
"Anaphylaxie et gestation", Comptes Rendus Hebdomadaires de Séances et Mémoires de la Société de Biologie, t. 82 (1919), p. 830-831.
"Anafilàxia i embaràs", Treballs de la Societat de Biologia, 7 (1919), p. 107- 108.
"Studies on the Inactivation of Vaccine Virus and the Action of Certain Substances upon the Infecting Power of the Inactivated Virus", The Journal of Experimental Medicine, vol. XLVII, n. º 3 (1928), p. 389-402.
"Exaltation de l'activité du virus vaccinal par les extraits de certains organes", Comptes Rendus Hebdomadaires des Séances et Memories de la Société de Biologie, t. XCXIX (1928), p. 6-7.
(Amb J. Sunyer Pi) "Exaltation de l'activité du Staphylocoque par les extraits testiculaires", Comptes Rendus Hebdomadaires des Séances et Memories de la Société de Biologie, t. 99 (1928), p. 1908-1911.
"Introducció a l'estudi del càncer", Monografies Mèdiques, n. 27-28 (abril i maig de 1929).
"Neutralization of Tumor Viruses by the Blood of Normal Fowls of Different Ages", Yale Journal of Biology and Medicine, vol. XIII (1940), p. 61- 76.
(Amb R. M. Thomas) "A Hemorrhagic Disease occurring in Chicks Inoculated with the Rous and Fuginami Viruses", Yale Journal of Biology and Medicine, vol. XIII (1940), p.77-98.
"Virus-Induced Tumors and the Virus Theory of Cancer", G. Homburger (ed.) The Physiopathology of Cancer, Nova York, Harper-Hoeber, 1959 (2.ª ed.), p. 238-292.
Some references
Favilli and others: "Hommage à Duran Reynals", Biologie Médicale, vol. 52, year 61 (1963), n. º 1, p. 1-122.
M. Stanley, J. Casals, J. Oró y R. Segura (eds.) "Virus y Cáncer. Homenaje a F. Duran Reynals", V Congreso Nacional de la Sociedad Española de Bioquímica, Barcelona, 1971.
Josep Pla, "Francesc Duran Reynals de la Universitat de Yale (1899-1958)", Homenots. Segona sèrie, Barcelona, Editorial Destino, 1981, p. 175-214.
Roca Rosell; T. F. Glick, Francesc Duran Reynals (1899-1958). Un investigador català de projecció internacional, Barcelona, Ajuntament de Barcelona, 1986.
Th. F. Glick; A. Roca Rosell, "Francesc Duran Reynals. Virus and Cancer: a controversial theory", Contributions to Science, vol. I, n. º 1 (1999), p. 87-99.
Acknowledgements
This biographical note has been prepared by Antoni Roca i Rosell (Polytechnic University of Catalonia – Institute for Catalan Studies)
Image gallery