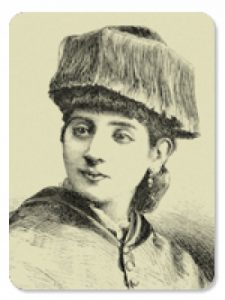 There are people who have made great scientific contributions throughout their career and there are others who have paved the way to make them possible. This is the case of Martina Castells Ballespí, who died at the age of thirty-one without being able to develop her professional career. But she was a pioneer, one of the first women to obtain a PhD. in medicine in Barcelona.
In Lleida there is street called Doctora Castells, where a bust of her can be seen, and in Reus, an avenue carries her name. It is not surprising that the cities where she was born and where she died pay homage to one of the first Spanish women with a doctorate in medicine, together with Dolors Aleu. The milestone came in 1882 with the thesis,Physical, intellectual and moral education that women should receive in order to contribute in the greatest degree to the perfection and fortune of Humanity.
Born in a family with a long tradition in medicine, it was not easy for Martina Castells to gain access to her studies. Besides the difficulties that a woman would face at the time, her health suffered during her childhood, which kept her away from her education on several occasions. First, it was an ophtalmia when she was eight years old. Her parents decided to take her to her aunt and uncle's house in Zumaia (Guipuzcoa). There she learned Basque in just a few weeks out of the need to communicate with other children. Later on, when she was back in Lleida, she was able to study in a couple of girl's schools, but the death of one of her brothers-who drowned in the Segre river-caused her to suffer a chorea, and she had to leave her education once again. Despite everything, she wrote and published poetry.
Her life changed with the 1868 Revolution when the new State granted access for women to study scientific careers. Castells begged her parents to return to her studies and in June 1887 she finished high school at the Secondary School of Lleida and entered the faculty on the same year. It was at the University of Barcelona, and as expected, to study a degree in medicine. In 1881 she finished her studies and requested the bachelor's degree exam on the 20th of June of that same year. She obtained permission on 4 July 1882. Final grade: excellent. The same year she obtained her PhD. in Madrid supported by Doctor Josep de Letamendi.
In her thesis, Martina Castells claimed women's education as a current subject of vital importance. A conflict that she was able to overcome thanks to an exceptional will and, as Letamendi affirmed, a «predestination towards medicine, given the family's Hippocratic condition». Castells' doctorate did not go unnoticed by the media. Letamendi himself wrote an article for Women's Enlightment (La ilustación de la mujer), where he explained the contrast between the attitude of young students, who received Castells very well, and «that of not few presumed redeemers of the country, whose liberalism was disturbed just by imagining that a woman would aspire to leave that historical trinomial of the cradle, the kitchen and the sock».
Unfortunately, all this will and effort to get to a place where very few women had been able to, was thwarted on 21 January 1884. Doctor Martina Castells died at the young age of thirty-one, while pregnant of her husband, Doctor Constantí, a military doctor and of the Pere Mata Institute in Reus. Her death made an impact as well: La independencia Médica (The Medical Independence, 1884) noted that the young doctor had a brilliant future ahead of her, and theGaceta de los Hospitales (Hospitals Gazette, 1884) described her as a «distinguished priestess of Asclepius».
For more information