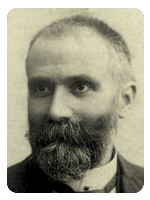 Àngel Sallent i Gotés was born in Castellar del Vallés on July 13, 1857. He was the son of Àngel Sallent Bosch, a tinsmith, a native of Sabadell, and Gertrudis Gotés Taló, originally from Sant Llorenç Savall. He married Magdalena Riera Viladomiu on October 14, 1878 in the church of Santa María de Sallent. They had seven children, but only four reached adulthood.
After having completed high school at the Escuelas Pías de Sabadell (1867-1873), he studied Pharmacy at the Faculty of Pharmacy of the University of Barcelona (1873-1877). The degree of Bachelor of Pharmacy was issued to him on December 5, 1877. He did the doctorate at the University of Madrid, obtaining the degree of Doctor of Pharmacy on October 13, 1882, with the thesis 'Tecnicismo médico-farmacéutico'.
After completing his degree, he settled in Sallent in 1879, where he opened a pharmacy and where he founded, in 1881, a short-lived weekly, El Sallentino. Later he moved to Terrassa, a city where he settled in 1891 and where he practiced his profession as a pharmacist until 1920, the year in which he retired. He was part of the Municipal Board of Health and in 1909 he was appointed sub-delegate of Pharmacy of the Terrassa party.
As a botanist, he made the Flora del Pla de Bages, a work awarded with a silver medal by the Barcelona College of Pharmacists in the 1901 competition, and published three years later. He collaborated with Joan Cadevall in the first three volumes of the Flora of Catalonia, especially in the lexicographical and etymological aspects. Together with Dr. Cadevall he discovered, in June 1907, in Can Carbonell, a mammoth tusk, the fragments of which are kept in the Terrassa Museum.
He excelled as a linguist. He maintained contacts with Antoni Maria Alcover, Antoni Griera, Rufino Cuervo and other philologists. In 1906 he actively participated in the First International Congress of the Catalan Language, in which he presented the presentation 'Catalan Etymologies'. In March 1907, the Spanish Academy appointed him a corresponding academic in Terrassa. In August 1913 he was appointed collaborator for Terrassa of the General Dictionary of the Catalan Language. On the other hand, he mastered, in addition to Catalan and Spanish, English, French and German, and had notions of Latin, Greek and Hebrew.
For many years (1903-1929) he was a teacher of English and other subjects at the Industrial School of Terrassa. He was a member of the Ateneu Terrassenc, honorary member of the Terrassa Excursionist Center and a member of various cultural, civic and religious associations in Terrassa. One of the main avenues in Terrassa bears his name.
He died in Terrassa on October 7, 1934.
For more information
Calbet, J. M. i Montañà, D. (2001). Metges i farmacèutics catalanistes (1880-1906). Valls: Cossetània.
Camarasa. J. M. (1989). Botànica i botànics dels Països Catalans. Barcelona: Enciclopèdia Catalana.
Font, P. (1935). «El doctor Àngel Sallent com a botànic». Terrassa: Arxiu del Centre Excursionista de Terrassa (2a època), 93: 117-118.
Griera, A. (1935). «Àngel Sallent, filòleg». Terrassa: Arxiu del Centre Excursionista de Terrassa (2a època), 93: 115-116.
Hernández, A. M. (2000). «Aportació a la biografia d'Àngel Sallent: la correspondència amb Rufino Cuervo». Terrassa: Terme, 25: 47-50.
Hernández, A. M. (2018). Joan Cadevall. Professor, botànic i geògraf. Terrassa: Fundació Torre del Palau.
Hernández, A. M. (2019-2020). «Àngel Sallent, soci d'honor del Centre Excursionista de Terrassa». Terrassa: Arxiu del Centre Excursionista de Terrassa (5a època), 6: 82-89.
Plans, L. (2003). Àngel Sallent i Gotés (1857-1934): un intel·lectual de la Renaixença. Terrassa: Fundació Torre del Palau.
Acknowledgments
This biographical note has been prepared by Dr. Àngel M. Hernández Cardona, corresponding academic of the Royal Academy of Medicine of Catalonia.
Image gallery