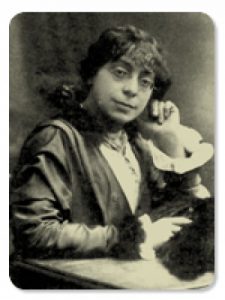 La Bisbal d'Empordà, 1878 – Barcelona, 1933. Being a doctor in Catalonia, at the beginning of the XX century, was a difficult challenge that few women dared to face. Among these was Trinitat Sais i Plaja, the eighth Catalan woman to graduate in medicine and the first to read the inaugural lecture at the Medical Association of Barcelona.
In 1903, Trinitat Sais i Plaja became the eighth woman in Catalonia to obtain a degree in Medicine and the first female doctor from Gerona. Sais' vocation most likely came from her mother, a practicing midwife (graduated in Barcelona in 1882), and who also influenced her sister to become a midwife in 1901. Sais chose a more difficult path by enrolling in medicine at the University of Barcelona in 1896. Previously, she had obtained a teaching degree (1893) and an honors secondary education diploma (1896).
With an exceptional education for the time, she did not wait very long to begin her work as a medical practitioner, dedicating herself mainly to tocogynecology and pediatrics. Apart from her practice, she found the time to carry out a divulging task essential at the time. Thus, she began collaborating in feminist journals-La Mujer Moderna and Feminal -with articles such as «Prenda antigiénica», a document against the use of corsets, where she expressed it was "a ridiculous garment imposed by a foolish fashion which imprisoned the body […] only to reduce the waist". Other works, addressed to health issues, include «Lecturas Utiles. Dispepsia», an article on the physiology of digestion.
Throughout her career, she participated in the organization of several congresses. Among these, the First Spanish Congress of Tuberculosis, in which she was vice-president of Ladies Committee, should be highlighted. As Jacint Corbella and Edelmira Domènech explain in a brief but magnificent paper in which they recovered her biography (Corbella i Domènech, 2001), "her activity [in Congress] was not just as a representative, but, because of her medical profession, she also collaborated in scientific tasks"; an involvement that she always took a little further. Thanks to her practical work and her capacity for divulging science, she was often invited by several institutions to give courses or lectures on health prevention. With less intensity but with equal conviction, Sais also carried out a certain political activity, as Corbella and Domènech point out: "She collaborated in the tasks of the Doctor Robert Catalanist Center, where she was head of the welfare services and mainly looked after the children and mothers of the Raval area."
A personality which left an imprint in everything she did and an outstanding scientific work allowed her to make another milestone possible in 1914 by reading the inaugural lecture of the Medical Association of Barcelona. It was the first time that a woman was in charge of this act. Consistent with her concern of the importance of women's role in the sanitary sphere, the conference was titled «The ignorance of women in the knowledge of hygiene practices and childcare as the first cause of child mortality». In 1904 she wrote: "in nature nothing sleeps, nothing is stationary, with the exception of women, who, given their apathy towards study, do not have the privileges that are given to them nor want to conquer others." The harshness of her words was based on her professional experience. She made it clear in her speech at the Association by presenting data from the city of Barcelona, which proved that almost a third of children died before the age of five, and that part of the problem was found in the lack of education mothers had on various aspects of hygiene and childcare. She asserted it with a maxim that is still valid today in many ways: "It depends, like all our great illnesses, of a cause we can fight and we can conquer: it depends on ignorance." She died suddenly in Barcelona, at the age of fifty, after a life of involvement that allows us to declare that she was one of the most active first Catalan female doctors.
For more information
Corbella, J.; Domènech, E. (2001). «Nota sobre l'obra de Trinitat Sais i Plaja, primera metgessa gironina (1878-1993)», Gimbernat (Barcelona), núm. 35, p. 123-133.
© Image by Jacint Corbella i Edelmira Domènech