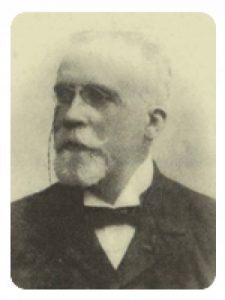 Public awareness of the importance of forests in land preservation hugely increased thanks to his efforts, which he did by writing a number of articles, most importantly, an article published in La Vanguardia in 1898 ('Patriotism and the Tree'). A year later, the first festival of the tree in Barcelona was celebrated in 1899 thanks to his initiative, then consolidated by royal decree in 1915 when it Arbour Day was established as a compulsory celebration in Spain.
Puig i Valls finished his studies in 1869 and was appointed head of the Forest District of Barcelona, Girona and the Balearic Islands in 1896, in which he planned the repopulation of the forest of the upper basin of Llobregat and coordinated the task of stabilising the sand dunes at Roses bay – one of his most important tasks.
Puig i Valls acted as president of the Royal Academy of Sciences and Arts in Barcelona (RACAB) throughout two periods, 1892-1894 and 1904-1906. The town council of Tarragona have converted a country house where he spent the last years of his life (St. Raphael 'Quinta') into a public park, where a stone monument to his memory was erected on the second celebration of the Catalan Forest Congress in 2007.
Before the establishment of Arbour Day, he had founded the Association of Friends of Arbour Day along with his friend Ricardo Codorníu i Stárico around 1900, based on the same aims and principles. As the Spanish representative he attended the Chicago World's Fair in 1893 where he was able to check that the Americans had been holding a national Arbour Day since 1872, an idea which had emerged after deforestation of virgin forests in the USA caused catastrophic floods.
As secretary of the association, he published twelve volumes of chronicles on Arbour Day which describe the activates and tasks carried out during the celebrations.
In order to spread knowledge about the benefits of forest repopulation he wrote hundreds of articles in magazines and newspapers: in
Época, Revista de Montes, Revista Contemporánea, Diario de Barcelona
and
Boletín del Instituto de San Isidro.
He was secretary of the Economic Society of Friends of the Country (1872-1874), on the board of the Barcelona Universal Exposition in 1888 and chair of the Sant Isidre Catalan Agriculture Institute committee for 8 years (at least between 1903 and 1906).
He was director of the Spanish commissions that attended the Universal Expositions in Paris in 1883 and 1900.
In recognition of his work for the protection of forests and forest land, the French government awarded him the Legion of Honour at the Paris Universal Exposition in 1904.
He attended the International Congress of Forestry in Paris in 1910, where again, he spoke about the need to protect the forests.
Together with Victoriano Felip, he proposed the construction of a railway to Manresa in Berga. Alongside his work defending the environment, he developed a project repopulating the forest in Collserola park and launched the creation of protected spaces in the mountains of Montserrat (the first of its kind in Spain), in the mountains of Tibidabo and Montseny, and the region of Cap de Creus.
Main works
Breves consideraciones sobre la importancia industrial, minera, agrícola y forestal de la alta cuenca del Llobregat, Madrid: Moreno y Rojas printing house, 1881.
Ferro-carril económico o tranvía movido a vapor entre las ciudades de Manresa y Berga siguiendo el valle del río Llobregat, Barcelona: Barcelona printing house, 1881.
La Phylloxeravastatrix en el partido de las afueras de Barcelona, Barcelona: Luis Tasso printing house, 1888.
Viaje a América: Estados Unidos, Exposición Universal de Chicago, México, Cuba y Puerto Rico, Barcelona: Luis Tasso typography, 1894-1895.
Memoria sobre la exposición colombina de Chicago desde el punto de vista industrial y comercial, Barcelona: Fomento del Trabajo Nacional, 1895.
Exposición Universal de Chicago: Notas científicas, Barcelona: Barcelona Provincial Council, 1896.
Elogio crítico de la obra científica del Dr. Costa. Sesión solemne dedicada a honrar la memoria del esclarecido botánico limo. Sr. D. Antonio Cipriano Costa, académico numerario y presidente que fué de la misma Corporación: 9-31. Barcelona: Royal Academy of Sciences and Arts, 1896.
La Asociación y la cooperación en el campo, Barcelona: Spanish typography, 1897.
Nota acerca de las causas de la humedad existente en las dunas de Torroella de Montgrí leída en la Real Academia de Ciencias y Artes de Barcelona, Madrid: Ricardo Rojas printing house, 1897.
Arenas voladoras del N.E. de España: estudio del régimen de su invasión continental, y medios proyectados, Barcelona: Royal Academy of Sciences and Arts, 1899.
Problema de meteorología pirenaica, Barcelona: Royal Academy of Sciences and Arts, 1903.
El Llobregat: sus cuencas alta, media y baja, Barcelona: Royal Academy of Sciences and Arts, 1904.
Crónica de la Fiesta del Árbol en España, Barcelona: José Casamajó graphics workshops, 1909.
Crónica de la Fiesta del Árbol en España, en 1910 – Año XIII de su publicación, Barcelona: 1910.
Crónica de la Fiesta del Arbol en España y en 1911. Barcelona: Borrás Mestres Elzeviriana printing house, 1911.
For more information
Boada, M., 1995. Rafael Puig i Valls, 1845-1920. Precursor de l'educació ambiental i dels espais naturals protegits. Barcelona: Environment Department.
Camps i Arboix, J., 1969. Història de l'agricultura catalana. Barcelona: Ed. Tàber. p. 135, 354.
Rafael Puig i Valls, in Viquipèdia.
Rafael Puig i Valls, in RACAB.
Image gallery