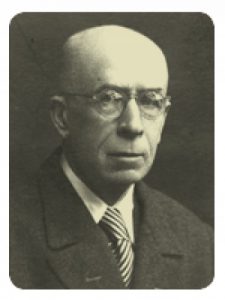 "He used to explain that as a kid, on the way back from Badalona to Alella at night, he had fallen in love with the firmament from contemplating the starry sky so much." Joseph M. Casals' words in memory of Isidre Pòlit exemplify a passion for astronomy that accompanied the career of this scientist from an early age.
He studied mathematical physics at the University of Barcelona and obtained his Ph.D. on June 1904. The Fabra Observatory was inaugurated that same year and shortly after Dr. Pòlit joined the team as technical assistant and collaborator of Dr. Josep Comas i Solà in his research on planets and comets. Years later, on 1921, he achieved the status of astronomer and with the passing of Dr. Comas i Solà, on 1939, he was appointed director of the astronomy section.
In this schematic trajectory, the duality that marked his professional career can already be seen: his dedication to teaching on one hand, and his enthusiasm for research on the other. In addition to his work as a professor at the University of Barcelona he was also appointed professor of mathematics at the former Superior School of Agriculture, later the School of Agricultural Experts.
In the field of research it is worth highlighting the discovery of an asteroid, methodical observations of the fluctuations of the variable star SS in the Cetus (whale) constellation, his photographs of planets (Mars, for example), or the study of impacts of cosmic rays at high altitudes, among others. All this knowledge was disseminated in a great number of lectures and scientific papers published.
Among the positions he occupied were that of President of the Royal Academy of Sciences and Arts of Barcelona (where he was a member since 1920), vice president of the Spanish and American Astronomical Society, member of the National Astronomy Board and the head of the Barcelona section of the Institute of Electricity and Automation of the Spanish National Research Council (CSIC). He is remembered for his qualities of accuracy, integrity and modesty. Estudiant de ciències fisicomatemàtiques a la Universitat de Barcelona, va obtenir el títol de doctor el juny del 1904. Aquell mateix any s'inaugurava l'Observatori Fabra de Barcelona i poc després el doctor Pòlit entrava a formar part de l'equip com ajudant tècnic i col·laborador del Dr. Josep Comas i Solà en les investigacions sobre planetes i cometes. Anys més tard, el 1921, hi aconseguí la categoria d'Astrònom i a la mort del Dr. Comas i Solà, el 1939, fou nomenat director de la secció astronòmica.
Main works
«La variación de las latitudes», Memòria de recepció de la Reial Acadèmia de les Ciències i les Arts de Barcelona (Pòlit i Buxareu, 1920).
«Contribución al estudio experimental de la acción colorante de los rayos Röntgen sobre el vidrio», Anales de Física i Química (Pòlit i Buxareu, 1946).
Del mundo atómico al mundo de las estrellas : conferencia (Pòlit i Buxareu, 1949).
«Transmutaciones atómicas de isótopos radioactivos», Revista de la Societat d'Astronomia d'Espanya i Amèrica (Pòlit i Buxareu, 1956).
For more information
J. R. B. (1959). «Profesor Isidro Pólit Buxareu». Anales de la Escuela Técnica de Peritos Agrícolas y de Especialidades Agropecuarias y de los Servicios Técnicos de Agricultura, vol. XIV, pg. X-XII.
Casals i Colomer, J. M. (1971). «La personalitat científica del Dr. Isidre Pòlit i Buxareu». Alella, núm. 109-110.
Armenter, F. (1958). «Ha muerto un sabio». La vanguardia, 21 d'octubre, p. 23.
Image gallery