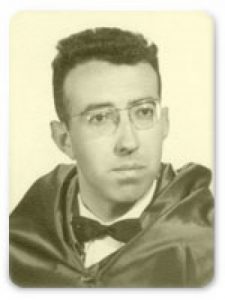 Son of Josep Pascual i Vila and Montserrat de Sans i Coret. He was born in Sevilla in 1934, where his father was Professor of Organic Chemistry. In 1934 his family moved to Barcelona.
He earned a degree in Physics at the Universitat de Barcelona in 1956, starting as an assistant fellow. In February 1957 he started to work at the "Junta de Energía Nuclear" (currently the CIEMAT) as an assistant scholar and he obtained his PhD degree at the Universidad de Zaragoza. In February 1961 he awarded a grant from the "Agencia Internacional de Energía Atómica" to work with Yoichiro Nambu at the "Enrico Fermi Institute" from the University of Chicago.
In November 1962 he came back to JEN and by the end of 1963 he obtained the Chair of Mathematical Physics at the Universitat de València, where he stayed until 1971, alternating his activities with regular stays at the CERN. In Valencia he started up a research group on Theoretical Elementary Particle Physics, in which a remarkable number of doctors were trained.
From 1964, in collaboration with Alberto Galindo from Zaragoza, they conferred a remarkable drive to High Energy Physics in Spain, and in 1968, in collaboration with other physicists, they started the "Grupo Interuniversitario de Física Teórica" (GIFT), of which he was the director from 1970 to 1974. In October 1971 he moved to the Universitat de Barcelona, where he kept his activities until his retirement.
From 1988 to 1993 he was Adviser of the "Secretario de Estado de Universidades e Investigación", and he created the "Comisión Nacional Evaluadora de la Actividad Investigadora". He was member of the "Reial Academia de Ciències i Arts de Barcelona", as well as of the "Real Academia de Ciencias Exactas, Físicas y Naturales", he awarded the "Medalla Narciso Monturiol" and the "Gran Cruz de Alfonso X Sabio".
Acknoledgements
Ramon Pascual de Sans, President of the The Royal Academy of Sciences and Arts of Barcelona.
Image gallery