Monturiol Estarriol, Narcís
Figueres, Alt Empordà 1819 - Sant Martí de Provençals, Barcelonès 1885.
Inventor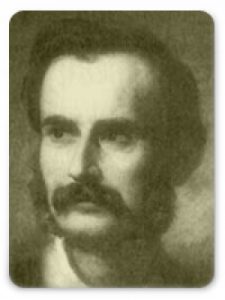 He studied in Cervera and in Barcelona, where he finished his law studies in 1845 despite he never worked as a lawyer. After being exiled in Perpignon, in 1848 came back to Barcelona and invented some mechanical items that he never showed.
As he was persecuted because of this republican political ideas, he had to take refuge in Cadaqués, where he started to paint and also made a project for a submarine. In order to construct the submarine he created an association and published, in 1858, El Ictíneo o barco-pez, where he explained his project. The year after he was able to construct the submarine that was tested in Barcelona's harbour. Because of the partial successful results and the popular pressure, the government of Isabel II promised to help Monturiol but actually they never helped him despite the support of well-known persons like Josep de Letamendi, who was the president of the Ateneu Català. Monturiol and his friends founded a society called La Navegación Submarina to improve his invention with the support of General Dulce, but finally the invention failed and the second Ictíneo was sold as old iron (1868). He made other inventions and a new procedure to manufacture paper with glue that he used when he was the director of the Fábrica Nacional del Sello in Madrid; he became the director in 1873 when the Republic was proclaimed until 1874 when the Republic was over. He also had planned the construction of a funicular, a project for transferring water from the Ter river to Barcelona, and in 1883 a system to preserve meet.
Main works
Ensayo sobre el arte de navegar por debajo del agua (1891)
Image gallery