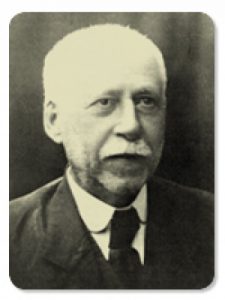 He completed his studies in Barcelona. After returning to Mahon, he began measuring climate from the rooftop of his drugstore on Arraval street. He was also the first chemical inspector of the city's municipal laboratory created in 1913 at the Civil Hospital, but he stood out as a meteorologist.
He published his observations about Minorca in 1886 in Journal of Minorca, and continued to do so from 1888 until 1928. In 1885 he took over the Mahon's meteorological observations from another great enthusiast, Joaquim Carreras, who had begun taking measurements in 1862. Mahon's intense, but restricted, cultural activity revolved around the Mahon's Cultural Association (which he founded) and through the Journal of Minorca. Maurici Hernández i Ponsetí was one of the scientific pillars of the cultural association and the journal, a pioneer in the meteorological tradition which was soon followed by Josep Maria Jansà i Guardiola. His collaboration spread to several Spanish and foreign centers and to the Catalan Meteorological Service, where he published some study notes. Together with Joaquim Carreras he published a report of the RACAB (Royal Academy of Sciences and Arts of Barcelona), «Meteorological Observations carried out in Mahon, island of Minorca». He was also a remarkable ornithologist and gathered a collection of Minorcan birds that is kept at the Cultural Association. He died in Minorca in 1932. In 1971, Mahon's Cultural Association conceded the Mauricio Hernández Pharmaceutical Award in his honor.
For more information
Canut, M. L.; Amorós, J. L. (2000) Anatomía de una cultura. Cien años de la Revista de Menorca (1888-1988). Menorca: Institut Menorquí d'Estudis, p. 204 – 211.
Carreras, J.; Hernández Ponsetí, M.  (1900). «Observaciones meteorológicas efectuadas en Mahón, Isla de Menorca (1865-1898)». Barcelona: Boletín de la Academia de Ciencias y Artes de Barcelona I (III època), vol. 30, p. 623-626.
Vidal, J. M. ; Rita, J.; Marín, C. (1997). Menorca. Reserva de la biosfera.Menorca: Consell Insular de Menorca, Caixa de Balears "Sa Nostra" i l'Institut Menorquí d'Estudis, p. 207 – 208.
Image gallery