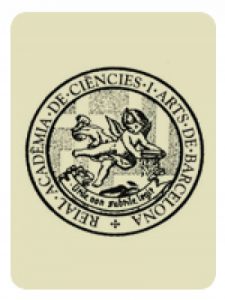 He was born in Torroella de Montgrí on December 1, 1812, the son of Jaume Giró and Úrsula Aranols. The couple lived in Torroella, where their father worked as a tailor, and later the whole family moved to Figueres, their mother's hometown, where Andreu studied primary and secondary education.
In 1830, he enrolled in the drawing schools that the Junta de Comerç maintained in the Llotja de Barcelona. He studied drawing, winning several prizes and a medal, and at the end he expanded his knowledge with courses in mathematics, logic, grammar, geometry, physics and others.
It was a turbulent time in the industrial world. The Junta de Comerç had been actively involved in the creation of many technical schools: nautical, shorthand, drawing and fine arts, mechanics, physics, chemistry, etc., thus making up for the lack of a university in Barcelona.
His extensive knowledge meant that many Barcelona institutions required Andreu Giró i Aranols to be part of its board of directors or its teaching staff. He was a professor of line drawing at the College of Humanities of Carles Carreres i d'Urrutia, at the Escoles Pies, at academies of fine arts, etc., until 1851 when he was appointed professor at the Escola Industrial.
In 1862 he obtained the title of Industrial Engineer in the specialty of Mechanics. In 1864 he taught line drawing at the School of Fine Arts of Barcelona. In 1873, he married Magdalena Flores. In 1877 he had a stroke and in 1883 suffered a relapse. He retired the following year, in 1884. On August 10, 1884, he died in the village of Sant Gervasi de Cassoles (Barcelona) where he lived temporarily.
Institutions of which Andreu Giró was a member throughout his life:
Societat Filomàtica de Barcelona. Literary, scientific and artistic entity founded in 1839. It was divided into four sections: literature, natural sciences, mathematics and fine arts. Andreu Giró was enrolled in the literature section and was its secretary and director.
Societat barcelonina d'Amics de la lnstrucció. For five years he served as general secretary, as well as the direction of Geometry and Art. He was twice president of the society.
Escola de Belles Arts. On January 26, 1864, Isabel II passed the school's teaching staff and subjects with Andreu Giró in the line drawing class.
Reial Acadèmia de Ciències i Arts de Barcelona. Full member of the Physical and Mathematical Sciences Section. He held the position of museum curator, treasurer, secretary and deputy secretary of the entity, and director of the Physical and Mathematical Sciences Section.
Societat Industrial Barcelonesa. The industrial schools were created in 1850. The one in Barcelona opened its doors at the beginning of October 1851, in the Llotja. They responded to the desire of the bourgeoisie to have professionals prepared to apply innovations that came from outside. The director was Josep Roura, from Sant Feliu de Guíxols. To form the teaching staff, Andreu Giró was called in as a drawing assistant; later, he would be a full professor.
Societat Econòmica Barcelonesa d'Amics del País.
In 2012 the Library of the Reial Acadèmia de Ciències i Arts de Barcelona dedicated the display case of the reading room to Andreu Giró i Aranols (1812-1862) and Llorenç Presas i Puig (1811-1875), Numeraries of the Science Section Physicomathematics, in commemoration of the bicentenary of his birth.
Publications
Andreu Giró wrote several works. Special mention should be made of the entitled "Elementos de geometría acompañados de ejercicios prácticos" (Ed. 19 edicions) and "Curso metódico de dibujo lineal con aplicación a las artes, a la indústria y a la agrimensura", which served as a textbook for professional nautical schools.
Acknowledgements
This biographical note has been made thanks to the article by Joan Radressa i Casanovas (Llibre de la Festa Major de Torroella de Montgrí, [en línia], 2019, p. 3-7) and to the documentation of the Royal Academy of Sciences and Arts of Barcelona.