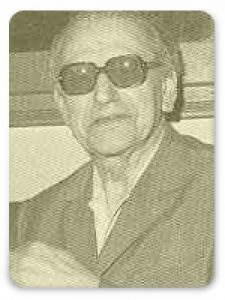 Botanist and historian of the Botany. He was graduated in Pharmacy in the University of Barcelona in 1927 and he got his PhD in Madrid in 1936. He was disciple of Antoni of Bolòs, Pius Font i Quer and Josep Cuatrecasas.
Between 1926 and 1939 he worked actively in Botany, mainly in history of the Botany, where he had as teacher Rafael Folch Andreu, a pharmaceutical of Montblanc and university professor in Madrid. He collaborated in the elaboration of the definitions of the terms of Botany for the General dictionary of the Catalan Language of Pompeu Fabra. During a short period between 1937 and 1938 he was mayor of Olot. Then he had to serve as military pharmacist, in the Military Hospital of Vallcarca, in Barcelona. Finally, he had to exile at the end of the civil war. He went to Colombia, where he was professor of the Normal Schools of Pasto and Pamplona, and of the University of Antioquia in Medellín. He carried out field work, mainly with or for Josep Cuatrecasas that was also exiled in Colombia, before settling definitively in the USA. In 1967 he returned to Olot. The last period of his life was fruitful in historical-botanical works and in cultural popularization, in local and regional media and in the Great Catalan Encyclopedia, for which he edited many biographical notes of scientists. He was member of the Catalan Institution of Natural History.
Main works
Vayreda, fitògraf (1926)
A propòsit de la Comissió Científica del Pacífic (1929)
Texidor como naturalista (1935)
Francisco Bolós y la cultura de su tiempo (1936)
L'antic Jardí Botànic de Barcelona i les ensenyanvces annexes (1949)
Noticia etnobotánica acerca del ulluco en Colombia (1967)
El pensament viu d'Estanislau Vayreda i Viola (1981)
Estanislao Vayreda, farmacéutico y botánico (1981)
Pàgines olotines i notícies de naturalistes catalans (1984).
Image gallery