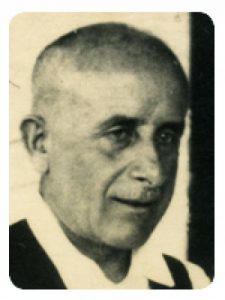 Entrepreneur and founder of the Marimurtra Botanical Garden in Blanes. Born in Hadamar, a small town near Frankfurt am Main, and now part of the city's conurbation, he showed an interest in botany from an early age. With only eleven years, he already gathered his first plant collections around his hometown.
As Pius Font i Quer recalls, "more than once Faust had spoken to me about his early interest in nature. And not only had he told me but had testified it by showing me his botany notebooks." But this emerging fascination did not continue into his higher education because his family pointed him towards the business world.
In 1897 he arrived to Barcelona, ​​where in 1911 he created with a partner the Faust Kamman company, which still exists. With the money he obtained from this business he slowly started to buy land near Blanes, close to the Forcanera beach. Faust had not forgotten his passion for botany and began acquiring these properties with the initial intention of creating a space where teachers, students and, ultimately researchers from around the world could carry out their studies in a peaceful and quiet environment. Influenced by Goethe, Faust had a humanist vision of science and art. From this perspective, in 1924, at the age of fifty, he left his management tasks at the company to focus on the creation of what is now the Marimurtra Botanical Garden. With the advice of scientists such as Pius Font i Quer, Josias Braun Blanquet, Fritz von Wettstein, A.V. Frič, Carlos Pau or Josep Cuatrecasas, among others, he began organizing the Garden. Faust's intention was not only to create a Mediterranean botanical garden, but to offer a space to anyone who was interested in the study of nature. As he himself would call it, he wanted to create "an Epicurean republic for young biologists," which brought together the most outstanding international personalities in biology in the best possible conditions of peace and harmony.
The Spanish Civil War, followed by the Franco regime and the Second World War had direct consequences on Faust's ambitious idea, but it did not stop him from continuing his work. Apart from the material work that can be seen in Marimurtra, Faust offered his help to emerging scientists during the difficult postwar years. One of the exemplary cases was that of Ramon Margalef (who would become one of the most renowned scientists in ecology), to whom Faust offered his garden and house in Marimurtra, but also introduced him to the world of fishermen-vital for his research-and helped him to purchase books and the first tickets to travel abroad, among others things. This sponsorship, which he undertook whenever he could, had started during the Civil War with his participation in the organization of the SIGMA (Station Internationale de Géobotanique Méditerranéenne et Alpine) excursion to Catalonia in 1934 and, during the war, by sending food, medication and other items to his Catalan friends.
In the late 1950s, Carl Faust recovered his idea of making Marimurtra "an outdoors place of acclimatization and experimentation, where the non-Mediterranean people of Europe could find an exit to the sea and a new homeland where they could devote themselves to botanical studies," as Pius Font i Quer explains when remembering his friend. But at the end of that year Carl Faust became ill and the possible eminence of a fatal outcome made him give up the negotiations he had had with the Barcelona City Council and the Spanish National Research Council and created a private foundation which, upon his death, would administer Marimurtra according to his guidelines. Carl Faust passed away on 24 April 1952 at his home in Marimurtra, leaving the Garden and all his assets to the foundation which carries his name and is in charge of keeping his work alive today.
For more information
Font i Quer, P. (1952). «Karl Faust Schmidt». Collectanea Botanica, vol. 3, fasc. I.
Camarasa, J. M.; Català, J. I. (2007) Els nostres naturalistes, vol. 2. València: Mètode, Universitat de València.
Fundació Carl Faust. «Semblança de Carl Faust», Jardí Botànic Marimurtra[en línia]. [Consulta: 3 març 2011].
Image gallery