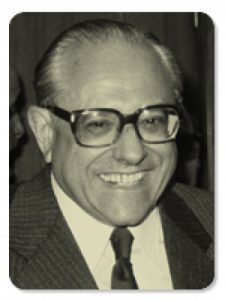 One of the most famous Catalan and Spanish scientists. He devoted his life to research in organic chemistry. His main contribution to science was the development of perchloro-organic chemistry, which he began in 1954 with the discovery of a potent chlorination agent. In 1964 he discovered the Inert Free Radicals, a class of trivalent carbon species of exceptional stability, which opened the door to a new era in organic chemistry. In 1982 he was awarded the Prince of Asturias Award, and he was nominated for the Nobel Prize in Chemistry eleven times.
He studied at the Institut-Escola of Barcelona, graduated in Chemistry from the University of Barcelona in 1944, and four years later he obtained his PhD. in Sciences from the University of Madrid. He carried out research at the Spanish National Research Council (CSIC), of which he was a member since 1944. Between 1949 and 1951 he furthered his scientific knowledge at Harvard University (Cambridge, USA) where he was appointed Research Fellow.
Manuel Ballester Boix was a full time researcher: at the CSIC in Barcelona and at the same time at the US Office of Aerospace Research and Development. Between 1961 and 1962 he went back to the US with his family. They lived in Dayton (Ohio), where he was a Visiting Professor at the Aerospace Research Laboratories. In 1964 he discovered the Inert Free Radicals, substances of great chemical passivity and an extraordinary thermal stability, which have allowed and in-depth study of the nature and behavior of the free radicals. These substances are made up by fleeting and aggressive molecules, and are of great importance in Chemistry, Biochemistry and Medicine. Numerous world-renowned scientific articles and several Spanish and foreign awards reflect the extent of his scientific work.
His activity as a research and an educator was unstoppable. He was a Research Professor at the Spanish National Research Council (1971-1985), Head of the Physical Organic Chemistry Section (1952-1971), Director of the Institute of Applied Organic Chemistry (1971-1985), and Research Director at the Spanish National Research Council, sponsored by the Office of Aerospace Research of the American government (1958-1973) and by the National Fund for Scientific and Technical Research (1972-1984).
He was also a member of the Spanish Committee of the International Union of Pure and applied Chemistry (1969), a member of the scientific committees of international symposiums on Organic Radicals held in Ann Arbor (Michigan, USA, 1966), Sirmione (Italy, 1974), Aix-en-Provence (France, 1978) and in Obermayerhofen (Sebersdof, Austria, 1992). He was president and vice president, respectively, of the Third and Fourth "International Symposium on Polihalogenated Compounds (Barcelona, 1973 and Birmingham, 1975), and president of the scientific committee of the Osborne Foundation for the Protection of Nature (1973-1979).
It did not take long for his work to be recognized. In 1969 he was chosen Academic Correspondent of the Royal Academy of Exact, Physical and Natural Sciences, in Madrid, and in 1980, Academic Numerary at the Royal Academy of Sciences and Arts of Barcelona. He gave lectures in universities, technical institutes and multinational firms in Spain, Germany, Saudi Arabia, Austria, Belgium, Brazil, Canada, the United States, France, Poland, the United Kingdom and Sweden. In 1982 he was awarded the Prince of Asturias Award for Scientific and Technical Research.
He died at the age of 82 in his home city, Barcelona.
For more information