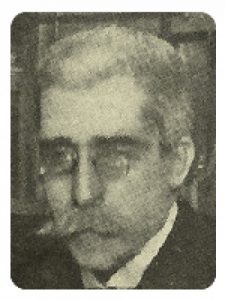 Artigas i Teixidor finished his studies in 1870 and started his work in various different forested areas and in the Forest Engineering School, where he was appointed professor. Later in life he was appointed to the Forest Advisory Board, the highest governing body of forestry. Artigas i Teixidor is considered a pioneer in the development of treaties on Mediterranean silviculture, and specifically his treaty on cork and the cork industry which has been used by countless students and other people interested in the topic.
He was a driver of change, in particular with the stabilisation of the sand dunes at the Roses bay and of the protection of forest land in Torroella de Montgrí. His home town renamed the street he was born after him, in recognition of his work for forest sciences and the protection of public forest land. The town of Cassà de la Selva, an important hub for the cork industry, did the same.
He was president of the Spanish Society of Natural History in 1899.
An important field trip with his students to Girona in 1882 – his experiences of which are recalled in a report written and published by Artigas i Teixidor himself – is considered the first important step in the process which culminated in his work of stabilising the sand dunes of Roses bay in the districts of l'Escala and Torroella de Montgrí, which started in 1896 and finished in 1911.
His personal concerns and dedication to his teaching meant that he was a prolific writer of articles and books about forest repopulation, plagues, silviculture and industries, specifically the cork industry. His best works are possibly Silviculture and the growing and cultivating of the forests (Selvicultura o Cría y Cultivo de losMontes), which has been used as a textbook for many years and Acorns and the Cork Industry (Alcornocales e Industria Corchera), praised by French and German engineers, among others. It should also be noted that, as well as the report mentioned above, his publishing of monographs about the sand dunes in Empordà helped to wake up the public and Spanish government about the problems created by shifting sand dunes encroaching on buildings, farmland and communication lines.
Main works
1875. El alcornoque y la industria taponera. Madrid. M. Tello printing house.
1875. Bosquejo relativo a las dunas procedentes del Golfo de Rosas. Revista Forestal.
1877. Inundaciones y repoblación de montañas. Revistade Montes. Vol. 1, pp. 418-425.
1878. Breves apuntes sobre repoblación y encespedamiento demontañas. Revista de Montes. Vol. 11, pp. 225-228.
1879. Cuatro palabras sobre los alcornocales de Cataluña. Revista de Montes. Vol. III, p. 330.
1880. Bosquejo forestal de los alrededores de Bagur. Gerona. Revista de Montes. Vol. IV, p. 145 Yss.
1881. Los torrentes de Barcelonnette (Bajos Alpes). Madrid. Moreno y Rojasprinting house, pp.l-16.
1882. La enseñanza forestal en Francia. Revista deMontes. Vol. VI, p. 269 Yss.
1885. La repoblación de los montes y las obras públicas en Francia. Revista de Montes. Vol. IX, pp.105-109.
1885. Memoria relativa a la excursión forestal a laprovincia de Gerona en 1882. Madrid. Moreno y Rojasprinting house, pp. 1-132.
1886. El cólera y los montes. Revista de Montes.Vol. X, pp. 183-185.
1887. Las dunas deTorroella de Montgrí. Revista de Montes.
1888. Noticias sobre el alcornoque y la industria corchera. Revista de Montes. Vol. XII, pp. 282-291, 345-349, 362-370 y 383-389. ~
1888. El corcho. Revista de Montes.
1888. Repoblación de las cabeceras de las cuencas hidrológicas. Revista de Montes.
1888 Observaciones sobre la plaga deOcneria dispar L. Anales de la Sociedad Española de Historia Natural (Actas). XVIII, p. 79. Madrid.
1888 Plaga de orugas en los alcornocales del Bajo Ampurdán. La Publicidad 1888.10.11. Barcelona.
1889. Dunas procedentes del Golfo de Rosas. Revista de Montes.
1890. Selvicultura o cría y cultivo de los montes. Madrid.
1894 La lagarta de los encinares y alcornocales. Revista de Montes, p. 209.
1895. Alcornocales e industria corchera. Madrid.1895, 1907.
1897. Las dunas del Golfo de Rosas. Revista de Montes.
For more information
Image gallery