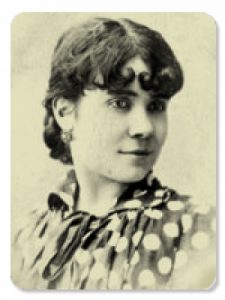 In 1872, Catalan classrooms began to admit women with a strong desire to study medicine despite their difficulties in having access to education.  Aleu i Riera was a pioneer and became the first woman to graduate in medicine and surgery in Spain and also the first to receive a PhD.
Aleu i Riera was born on 3 April 1857 in Barcelona. She was the only child of the Aleu i Riera marriage. She received classes from private tutors and studied her secondary education in an institute in Barcelona. Upon completion, she entered the Faculty of Medicine on September 1874. She finished her studies on 1879, but it was not until June 1882 that she received the authorization for the degree examination, where she earned an excellent grade in every subject. In October, she finally received her PhD degree, with the thesis "Of the need to redirect women's hygiene and moral education onto a new path.' The thesis was preceded by a letter from Dr. Joan Giné i Partagós, where he remarked he bore witness of the natural aptitude of women for the theoretical and practical studies of a medical career.
In those days, a woman found nothing but difficulties to access higher education and, once finished, to obtain the official titles and the right to practice the profession. During this time her demands, and those of Maria Helena Maseras i Ribera, who together with Martina Castells Ballespí were the first three female doctors in Spain, were widely covered in newspapers and gave rise to a debate within the Council of Public Instruction, the highest administrative and consultative body for education at the time.
Professional career
Aleu i Riera initially lived and practiced medicine in a building on the Rambla dels Caputxins (close to the Gran Teatre del Liceu, the Liceu Theatre) and then moved to the number 31 of Rambla Catalunya, where she practiced the specialties of gynecology and pediatrics for 25 years. She also taught domestic hygiene at the Academy for the Education of Women, on number 10 of Rambla de Canaletes. It should be emphasized that this academy was founded by the harpist and liberal intellectual Esmeralda Cervantes, the pseudonym of Clotilde Cerdà Bosch, daughter of the famous architect Idelfons Cerdà.
She gained a wide acceptance within all social sectors, and among her female patients there were several members of the bourgeoisie, artists, sheltered women, and children from the House of Charity of Barcelona. At the beginning of her career she once wrote, "In the few months that I have been practicing for, I have attended sick patients that had been suffering an ailment for over six years, and who said they would have waited much longer had they not had the chance to be visited by a woman."
In her thesis she pointed out that the differences between boys and girls responded to differences in education, and that efforts should be made to ensure that "girls' schools were at the same level of the best boys' schools." Apart from her doctoral thesis she wrote many informative texts, aimed at improving the quality of life of women, especially in motherhood, such as Consejos a una madre sobre el regimen, limpieza, vestidos, sueño, ejercicio y entretimiento de los niños (Advice for a mother about child feeding, cleaning, dressing, sleeping, exercise, and entertainment). She also criticized the obligations imposed on women when it came to dressing, "The most harmful garment to a woman's body is the corset. It is much too tight in order to increase the appearance of slimness. As if slim was equivalent to beautiful!"
Private life
In 1883 she married Camilo Cuyás Martí, a stockbroker from a bourgeois Barcelona family. They had two sons, Joan and Camil. The eldest, Joan, studied industrial engineering, and the youngest, Camil, medicine.
A great misfortune affected the last years of her life. Her son Camil died at the age of 21 from an acute tuberculosis at the Hospital Clínic, where he had started working as an internist. This event precipitated her death at the age of 56 on 18 February 1913. Her funeral was attended by personalities of the time and the boys and girls from the House of Charity whom she had visited for free during many years.
Main works
More information
Corbella i Corbella, J.; Domènech E. (2000). Metgesses a l'antiga Facultat de Medicina de Barcelona del carrer del Carme. Revista Gimbernat, vol. 33, p. 203-220.
Flecha Garcia, C. (1996). La primeras universitarias en España. Madrid: Narcea.
García, B. (2010). Juguen dames : les primeres universitàries: Helena Maseras, Dolors Aleu i Martina Castells. Barcelona: Ara llibres.
Martínez, Ll. (2004). Metgesses de Catalunya. Barcelona: Pòrtic.
Ortiz Gómez, T.; Becerra Conde, G. (1996). Mujeres de ciencias. Feminae. Universidad de Granada.
Ortiz Gómez, Teresa. (2006). Medicina, historia y género. Oviedo: KRK ediciones.
Acknowledgments
We would like to thank Dr. Josep M. Camarasa for his help in the elaboration of this biography.
Image gallery